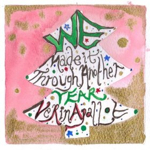 Don't let the label name fool you,
Nerina
is a British performer of some repute, an Ivor Novello award nominee in fact, although this 2013 EP is the first I've
heard of her
. This is typical pop-rock singer-songwriter fare, and indeed all five songs on this collection are originals of hers, even "Blue Christmas," a breezy number about Christmas melancholy. The collection kicks off with the upbeat "I Know What You're Doing For Christmas," goes jazzy-bluesy with the title song and straight to balladry with "A Christmas Lullabye," concluding with "I Wish," in which the singer misses a former lover at the holiday. While putting this post together I discovered
Yes December
, a 2011 EP by the artist. The title song is one of those "winter" ballads not necessarily about Christmas, "Two Figures in the Snow" is a piano ballad about loyalty, and she covers "Last Christmas" in a mildly samba arrangement. The two remaining songs don't sound particularly holiday oriented. "Lot Like Heaven" is a rock stomper and "Eleven" is a piano ballad of a very Kate Bush-ian cast. Of the two, the newer collection is the stronger one, but completists and fans with both will have enough songs for a full album from Nerina.