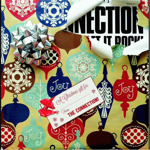 We've had this
power pop band
on the site previously for a couple of strong rocking Christmas singles, and now they've expanded their work into a full album for 2014. The previous singles,
"Christmas Time Again"
and
"Rock 'n Roll Christmas"
backed with "Merry Christmas (I Don't Want to Fight Tonight)" are part of the playlist, and they add the glam-rock sounding opener "Money, Honey, Baby," the poppier "I Feel Fine (It's Christmas Time)," the midtempo "Christmas Bells Are Ringing," which almost has the feel of one of the Ramones' slower songs, and the driving rocker "West Coast," which celebrates "the best coast" for a holiday. Wrapping things up are "Better Late Than Never," a hard-rock ode to postponing the holiday, and "Poor Boy," a folky blues lament about being poor on the holiday and the healing power of rock 'n roll. This is how you rock 'n roll the Christmas season.