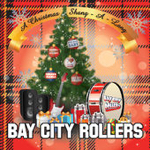 Two years ago we featured
"Rock 'n Roll It's Christmas Time"
by "Bay City Rollers starring Les McKeown," which we considered to be worthy of notice even given the shopworn teeny-bopper origins of the band name. Missed it last year, but an album containing this song followed in 2015. And the rest of the album follows along in grand style. Taste-tippers will note that the BCR sound is pretty much in place, and that it isn't out of place when lined up alongside such 70s glam rockers as Slade, T-Rex and Wizzard. I will grant that it's a bit poppier, but there's still a fair amount of rock crunch employed here. The title song, the previous single, "Jingle Bells," "Christmas Everyday (When I'm With You)," and "Party Tonight" are all worthy of notice. And because they're Scottish, they take a shot at "Loch Lomond" too, but we'll give 'em that one.