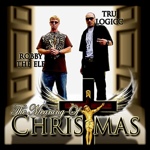 Actually, I'm surprised somebody didn't come up with a hip-hop elf character before this. This is actually
Robby's
second collection, released in 2011, but I just found out about him this year. Not all the songs are really Christmas related, except that they're being performed by an elf, but it's out there for those of you who want to bust rhymes on Christmas. The title song is a discussion of the fundamental verities, peace, love and understanding and such. "Lost Christmas Love" is a love letter written to a lost lover, and "Christmas Poppin" is the opening statement from an elf dedicated to "Christmas crunkin'." "Bling" is pretty much about what rappers have instead of presents, although Robby's claim that Santa has a MySpace page means whoever the elf in charge of the North Pole's IT department needs to migrate old Father Christmas to Facebook, stat. "Boogie Bootie Bounce" is all about "how elves get down," and not so much about the holiday. "The Challenge" is your usual rap showdown number, and "Don't Hate" cranks up the guitars in support of the title's request. Overall, this is kind of old-school sounding, and the raps are a little too seriously intended for the concept, which is a rapping elf. If Robby keeps at this, I'd suggest a lot more humor in future raps.
UPDATE
: Robby's reissued this album with some additional cuts for 2016, including
last year's single
of "Christmas Forgiveness" and "Don't Be No Scrooge." Another new cut is "Boogie Bootie Bounce," again with the old-school rap sound, but fun. Apparently the updated album is only on iTunes and CDBaby for now.