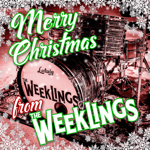 Hey, we just had them on here a few weeks ago with a
Beatle-like object
. Well, they did another one in 2017. This originally was just a handful of snippets sprinkled through one of the Fabs'
"Goon Show"
-like Christmas records (which have been issued in a box set of vinyl 45s
for Christmas giving
, btw) but a version of it reached the public as an extra cut on one of the
Anthology
-era CD singles. Nevertheless, Beatle fans go big for this tune at Christmastime; hell, even
Ringo
did a version once. Because it's short and repetitive, the Weeklings spiced it up by mashing it with "Flying" from
Magical Mystery Tour
, and at the end they tacked on a coda ripped from the chorus of "Baby You're a Rich Man." Now you have to decide if it's this one, the other one, or both for your Christmas mix.