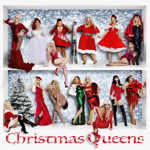 The RuPaul influence on 2015's holiday season continues with this raft of
"Drag Race"
competitors doing their take on the holiday repertoire. Like
RuPaul's disc
, the sound is mostly modern pop/dance/R'nB, but it's more of a novelty album, in that enthusiasm outstrips talent here. And it's also for mature audiences, in regard to some infrequent sex talk. But you might get a kick out of Ginger Minj's "Christma-Hannu-Kwanzaa-Ka," a song that will at least help you explain to the Fox News-obsessed stick-in-the-muds out there why people say "Happy holidays" this time of year. Or Sharon Needles' punky take on "Jingle Bells" that does something unspeakable with the top of a Christmas tree to start. "From Head To Mistletoe" by Courtney Act throws in a tiny bit of girl-group schmaltz, Jiggly Caliente brings the hip-hop on "Ratchet Christmas," and the near-obligatory ode to the ugly "Christmas Sweater" is brought to us with a touch of folk-country by Alaska Thunderfuck (really), Courtney Act and Willam. The latter artist shows up again doing a Bill Cosby impression on "A Very Cozby Christmas," which is really "Baby, It's Cold Outside." Oddly, Manila Luzon performs "Slay Bells," which you'll recall is the title of RuPaul's album, Violet Chachki delivers an R-rated "The Night Before Christmas," and Detox tips his wig to Hanukkah with "This Is How We Jew It." I won't make any great claims for this album, but there are some giggles to be mined here if you're up for it.